Bringing you the ultimate in entertainment
Experts at domestic AV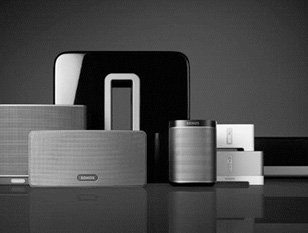 Audio Visual technology is so advanced nowadays that it's possible to get cinema quality entertainment in your home at an affordable price.
Imagine your very own home cinema, or an AV set-up in your lounge with super-sharp pictures and stunning sound.
Aylesbury Aerials & Satellites can make it happen, by installing the latest projectors, the smartest televisions and the most advanced surround sound systems available.
We can help you plan your home entertainment system, supply the technology, install it all to the highest standards and carry out any repairs and maintenance you might require.
And it's not just AV entertainment where we're experts. We also provide advanced home security systems via CCTV, and smart lighting, plus room-to-room connectivity of technology, all designed to make your home life easier and safer.
Whatever your AV plans and budget, Aylesbury Aerials & Satellites will make your dream a reality. Get the ball rolling today by calling 0800 046 9750 and you could soon be benefiting from our AV expertise.
We install commercial AV systems too
From bars to shopping centres, gyms to restaurants, we can give you the AV system you want to delight your members and customers.
Imagine the ultimate sound system in your bar or club ramping up the atmosphere and keeping the dancefloor packed. Or entertainment facilities in your gym that keep members happy before and after their workout. Or projectors in your office that let you deliver presentations in stunning HD.
The AV Technicians here at Aylesbury Aerials & Satellites can make it all happen. Call us for a Consultation and we'll help you develop and plan the system that meets your needs. Just look at some of the AV assignments we've completed for clients:
TV systems in multiple zones
LCD and Plasma branding and advertising displays
Fixed projector installation for video conferencing
Stunning sound systems for music venues, bars, clubs and gyms
Wireless speaker systems for outdoor events
What's your AV requirement? Get us on board early by giving us a call on 0800 046 9750.
AV Support And Maintenance Package
Most AV systems pack a lot of hi-tech equipment. Making sure it all connects together brilliantly takes a lot of skill. Ensuring it all stays working smoothly is the purpose of this package. For a small fee, our AV experts will:
Check your set up 4 times a year
Ensure it's working brilliantly
Replace anything that isn't doing its job
Test its performance
Advise on how to fix or improve the system
Getting us involved in your AV project is a passport to excellence. Our AV Technicians are experts in their field, with CRB certificates to prove it, and an unrivalled knowledge of all the latest products. Call us today on 0800 046 9750